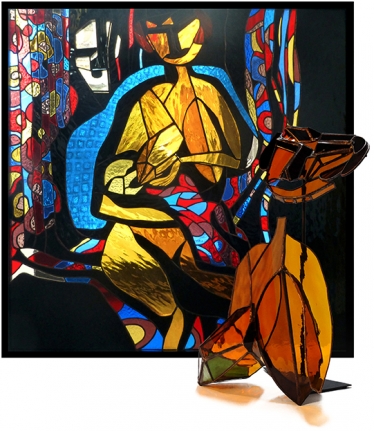 STAINED GLASS 3D PROJECT – MOTHER WOMEN :
PRIZE OF THE SALON D'AUTOMNE 2016 FOR ENVIRONMENTAL ART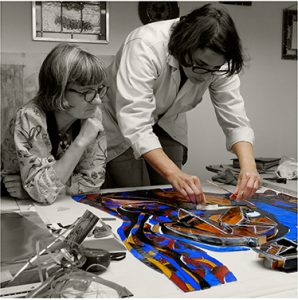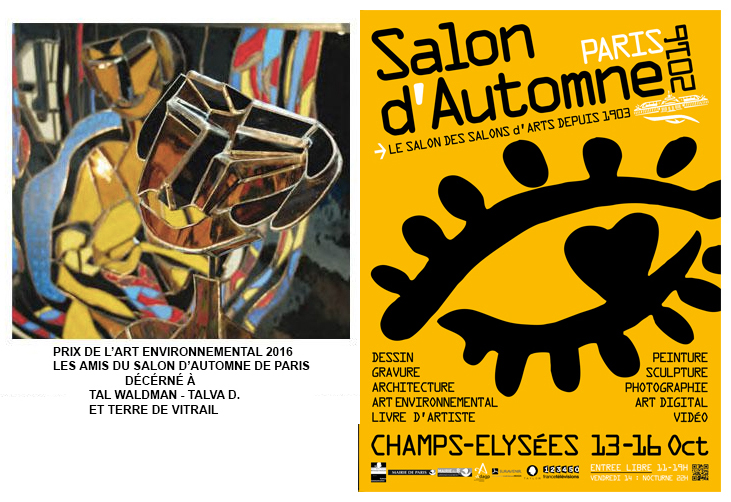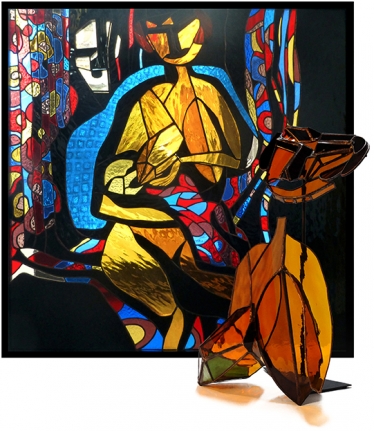 This artistic project as a whole is committed to exploring the volume in stained glass. This volumetric research associates other materials and techniques (blown glass, engraving on glass and metal). Four pieces are to date made : Sculpture 'Déracinement', including wooden stained glass window in view of migration in Europe; The Mother-Woman series, combined with a stained glass window and a sculpture. Together they tell a story of liberation in which the duality of MOTHER WOMAN reveals itself and pushes the limits of the technique of traditional stained glass to create a three-dimensional work. Recentaly was rewarded with the prize of Environnemental Art in the historical exhibition of Salon d'Automne in Paris.The fourth, MADONA a sculpture of the mother.
Technique: drawing in mixed media on paper, sketch paper for stained glass, three-dimensional models of earth and cardboard, welding of pieces of glass and sheets of copper.
A research on the subject of maternity is at the origin of the project MOTHER WOMAN, and can be viewed on the site. These drawings, due to their structure with ink, lend themselves well to an adaptation in stained glass, the ink being translated intuitively in welding.
To develop an artistic perspective around the working methodology, a photographic documentation accompanies the project with Christine Noel and myself.
Collaboration: Terre du Vitrail
Biennial of glass of the Museum of Art and History of Colombes, among the winners of the Call for Creation, March-July 2018

Exhibition  Salon d'Automne 2016, Environemental Art Prize.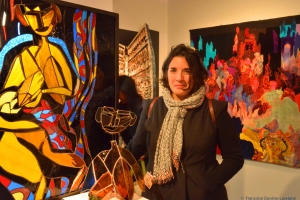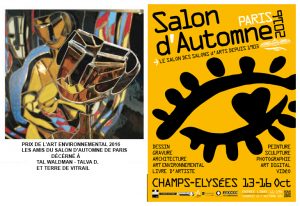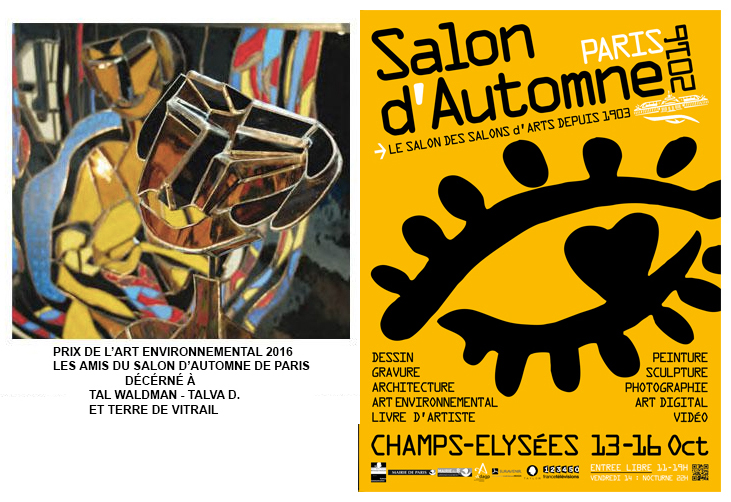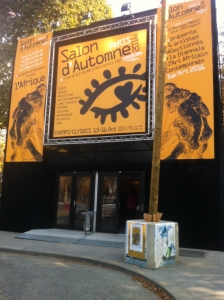 Extract of a film by Camille Lannier and the Salon d'Automne exhibition / including an interview
Une version courte de mon interview par Camille Lannier, A short version to my video interview by Camille Lannier,

Publiée par Tal Waldman Talva D sur Lundi 21 novembre 2016
Extract of a film by Thibault Lepeuve and Les Amis de Salon d'Automne / including an interview
Thank you Thibault Lepeuve and Les Amis de Salon d'Automne for the video on our work!The excerpt here!!The film entirety: https://www.youtube.com/watch?v=dV09w0a4UZo&feature=youtu.beMerci Thibault Lepeuve et Les Amis de Salon d'Automne pour la vidéo sur notre travail!L'extrait ici !!L'intégralité du film: https://www.youtube.com/watch?v=dV09w0a4UZo&feature=youtu.be

Publiée par Tal Waldman Talva D sur Vendredi 25 novembre 2016
The making of
Artiste visuelle, Tal Waldman Talva D nous fait découvrir son projet en cours : 3D vitrail et le travail sur vitraux. Belle soiréeMusique @ #Thedeepr Bocrew Tal Waldman Talva D

Publiée par N+CO sur Jeudi 2 mars 2017