Between the lines and the thread, the artists of this exhibition evoke the notion of nomadic beings, of displacement. "It will be on the thread, the link and nomadic beings" is the title, as a story of which we would only tell the premises. The D Gallery invites on this occasion 4 artists from March 20 to 31, 2019; Rada Tzankova, Qin Han, Tal Waldman – Talva D. and Charni Robinne. Although it is not a focused choice, only women participate in this exhibition, which will also be punctuated by the performance "Tive um Coraçao" by Célie Benoist and Hélia Aluai.
CONTACT: contact@dgalerie.com / +33 7 68 43 99 79 – www.dgalerie.com – Instagram: @d_galerie / Facebook: @ladgalerie ADDRESS: 49 av. Jean-Jaurès, 75019 Paris. // Tuesday-Sunday // 11h-19h Free exhibition, Paid performance.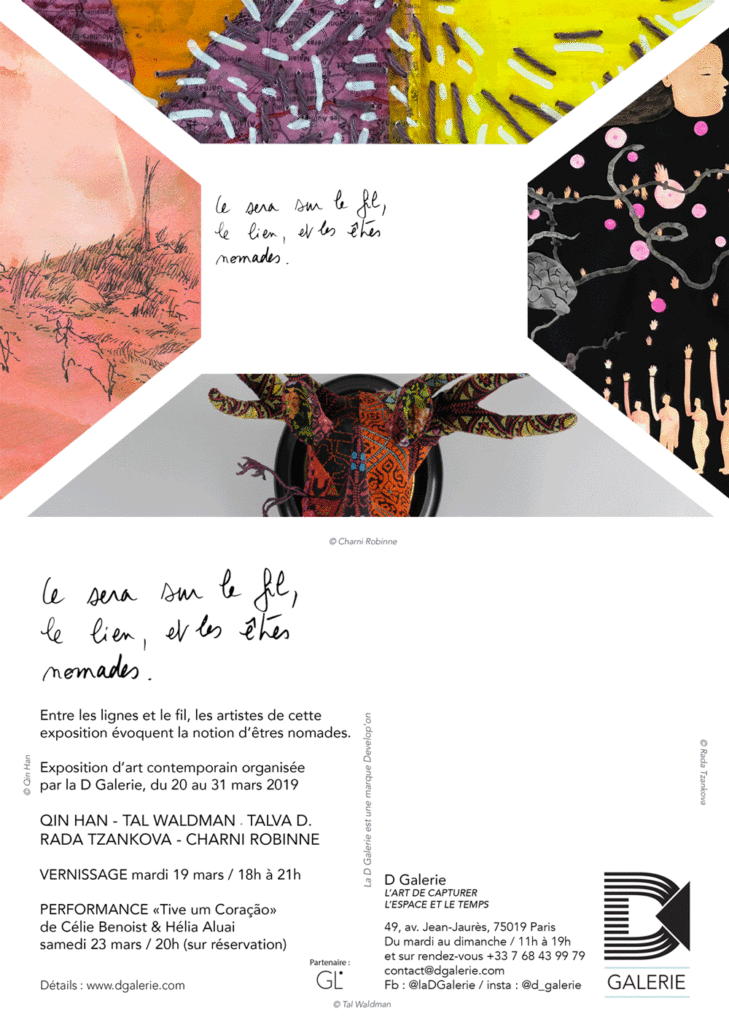 Tal Waldman – Talva D. is an Israeli-German artist living and working in Paris. She has participated in many collective and personal exhibitions in France and internationally and is marked by several residencies in Israel, Germany, Greece, India. She is passionate about the transversal nature of the visual arts and crafts that she invites whenever she can to create unique hybrid works. For the exhibition "It will be on the wire, the link and the nomadic beings", Tal Waldman – Talva D. will present "Embroidered Memories", a set of 3d works, as many pictorial representations of stages of migration. Charged with a strong personal history, the artist poetically evokes the rootedness, questions of identity and collective memory where glass, embroidery, wood, the recovery of objects users, invite themselves to create a harmony full of stories.
Rada Tzankova is an artist of Bulgarian origin who works and lives in Paris. She exhibits internationally and her works are integrated in several collections of Foundations. Already invited by the curator for "Hundred Days", exhibition of the homonymous contest in San Francisco (2014), and "Presences", Off's of the Dakar Biennial (2016), she will present here a series of drawings in ink, charcoal, pencil, acrylic on paper, including a large format. The work of Rada is a sweet world crossed by characters and allegories with acidulous colors. In fine lace, it translates subtle scenes that make you forget the material, the space of a paper. For the exhibition "It will be on the wire, the link and nomadic beings", Rada Tzankova will also unveil two studies in Benin, the only black and white drawings of her career.
http://www.talvadesign.com/wordpress/wp-content/uploads/2018/05/logo-simple-300x49.jpg
0
0
talwebmaster
http://www.talvadesign.com/wordpress/wp-content/uploads/2018/05/logo-simple-300x49.jpg
talwebmaster
2019-03-15 15:56:17
2019-03-18 11:23:34
Exhibition "It will be on the thread, the link and nomadic beings" Galerie D, Paris 19