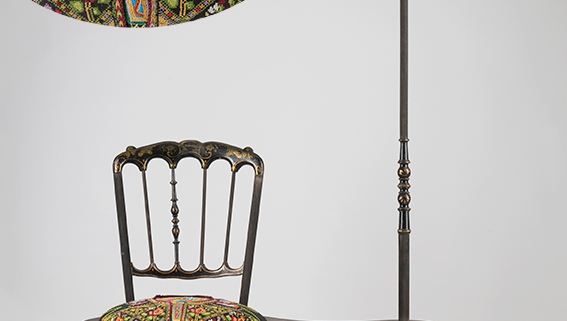 EMBROIDERED MEMORIES – Exhibition museum La Piscine in Roubaix
EMBROIDERED MEMORIES, is a process of artistic creation, artisanal production and exhibition in the heart of sustainable development!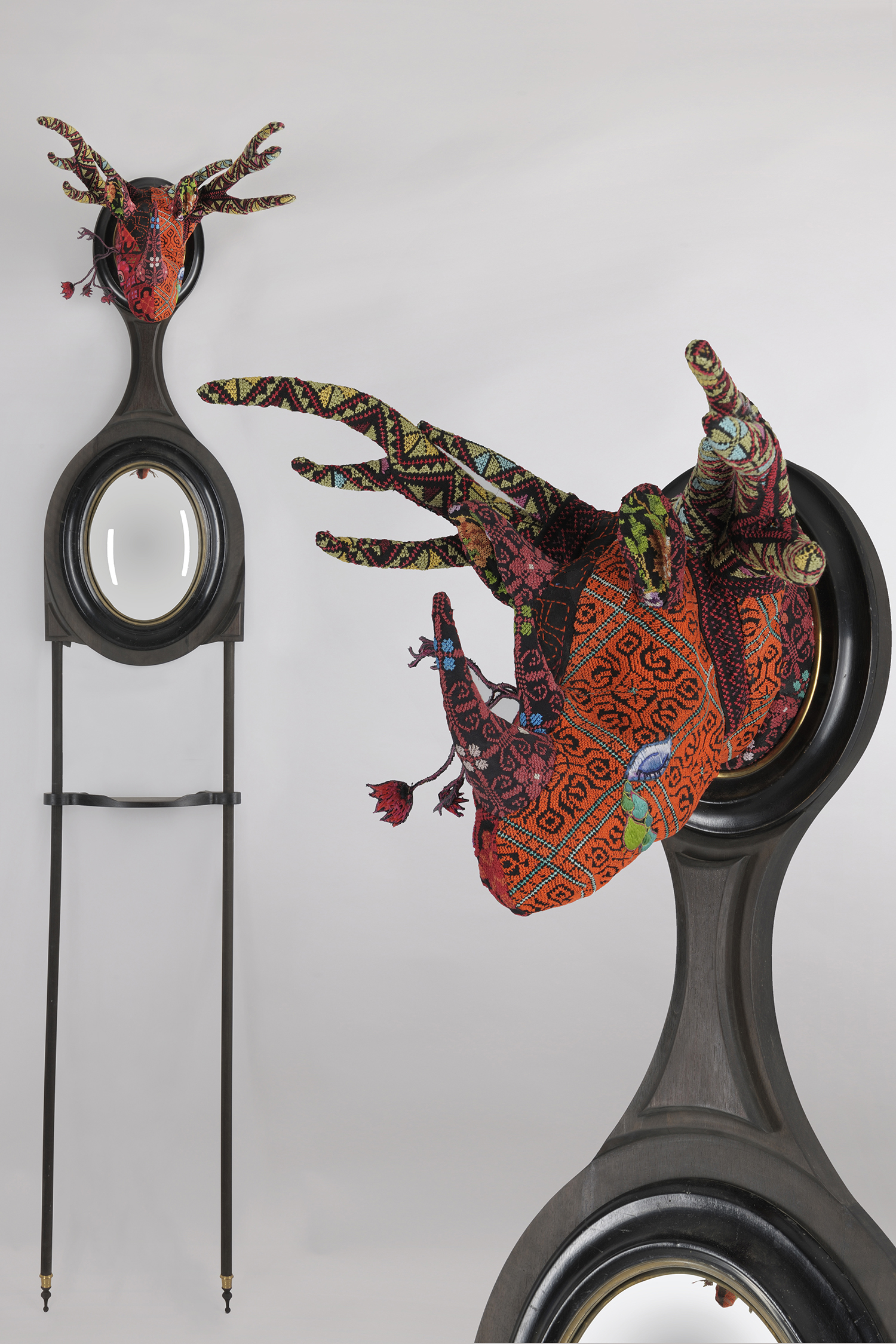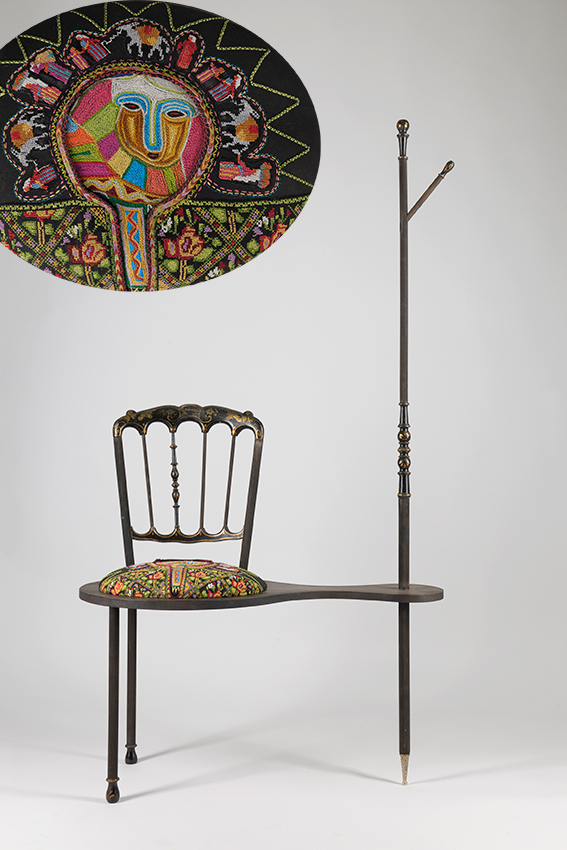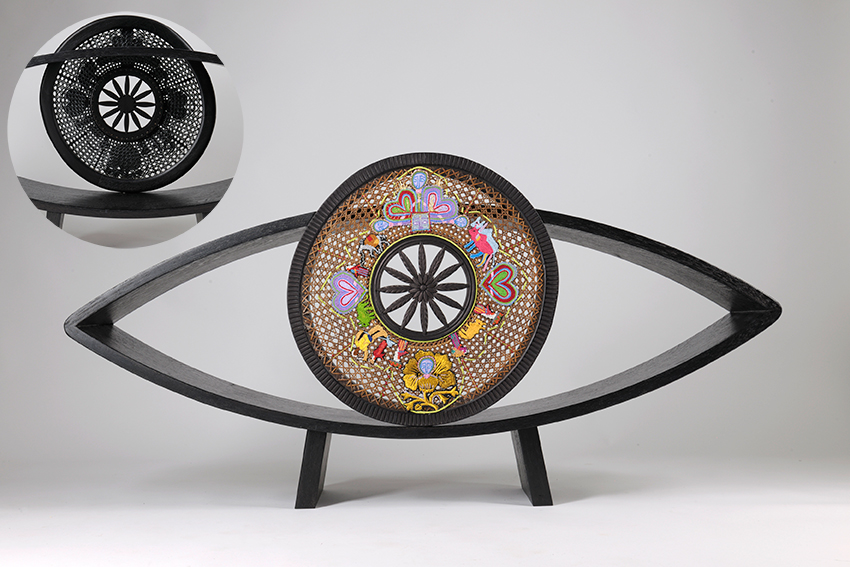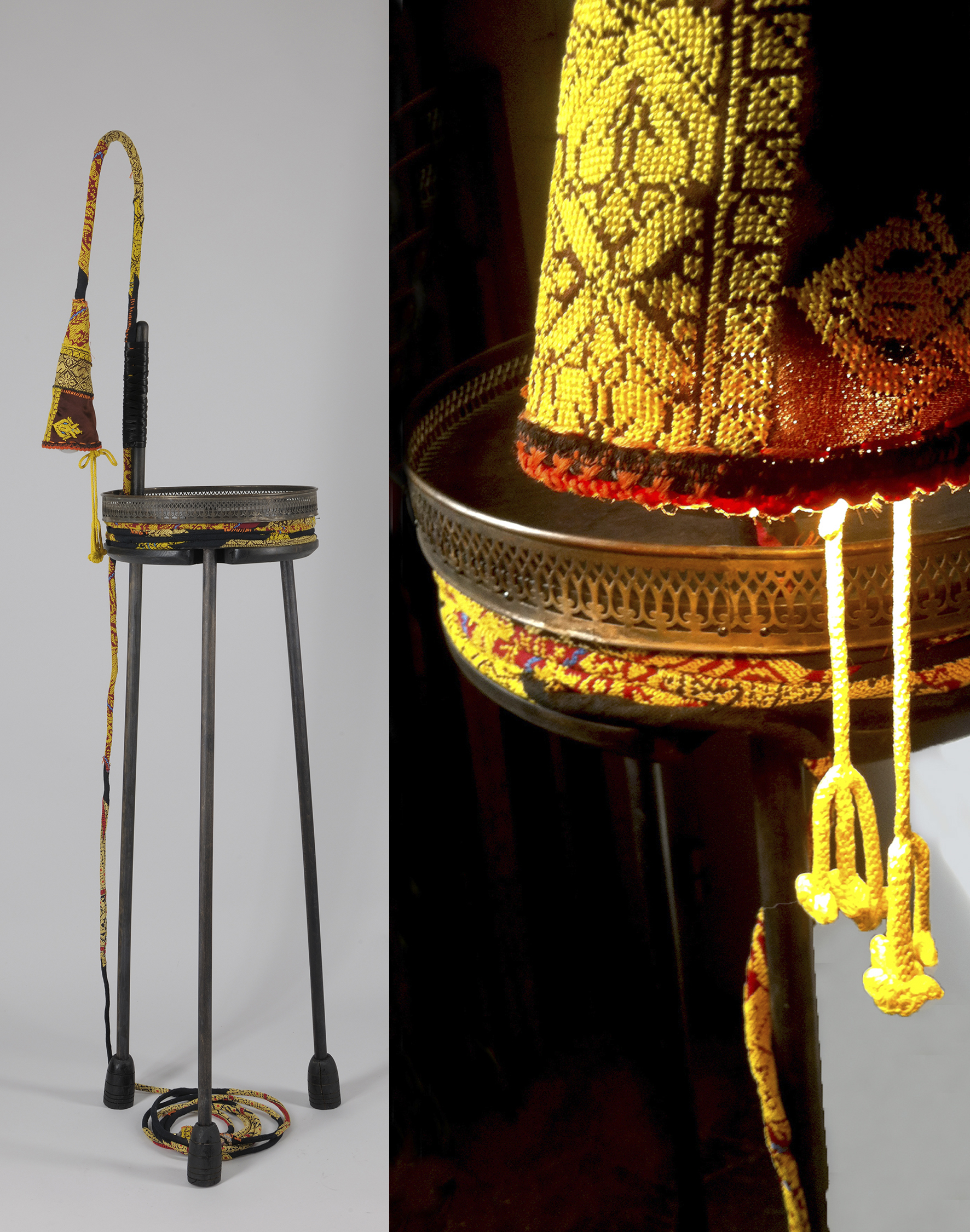 Exhibition, oct 2016- march 2017, Museum of Art & Industry La Piscine , Roubaix, France              
Exhibition, April 2016, Invited artist to the International fair of Art thread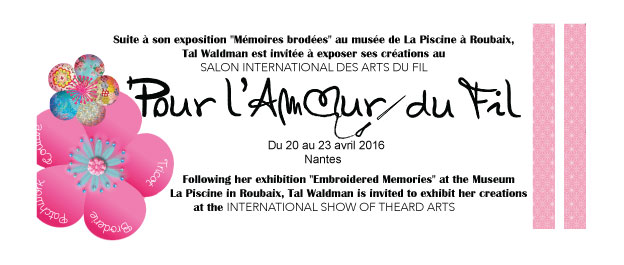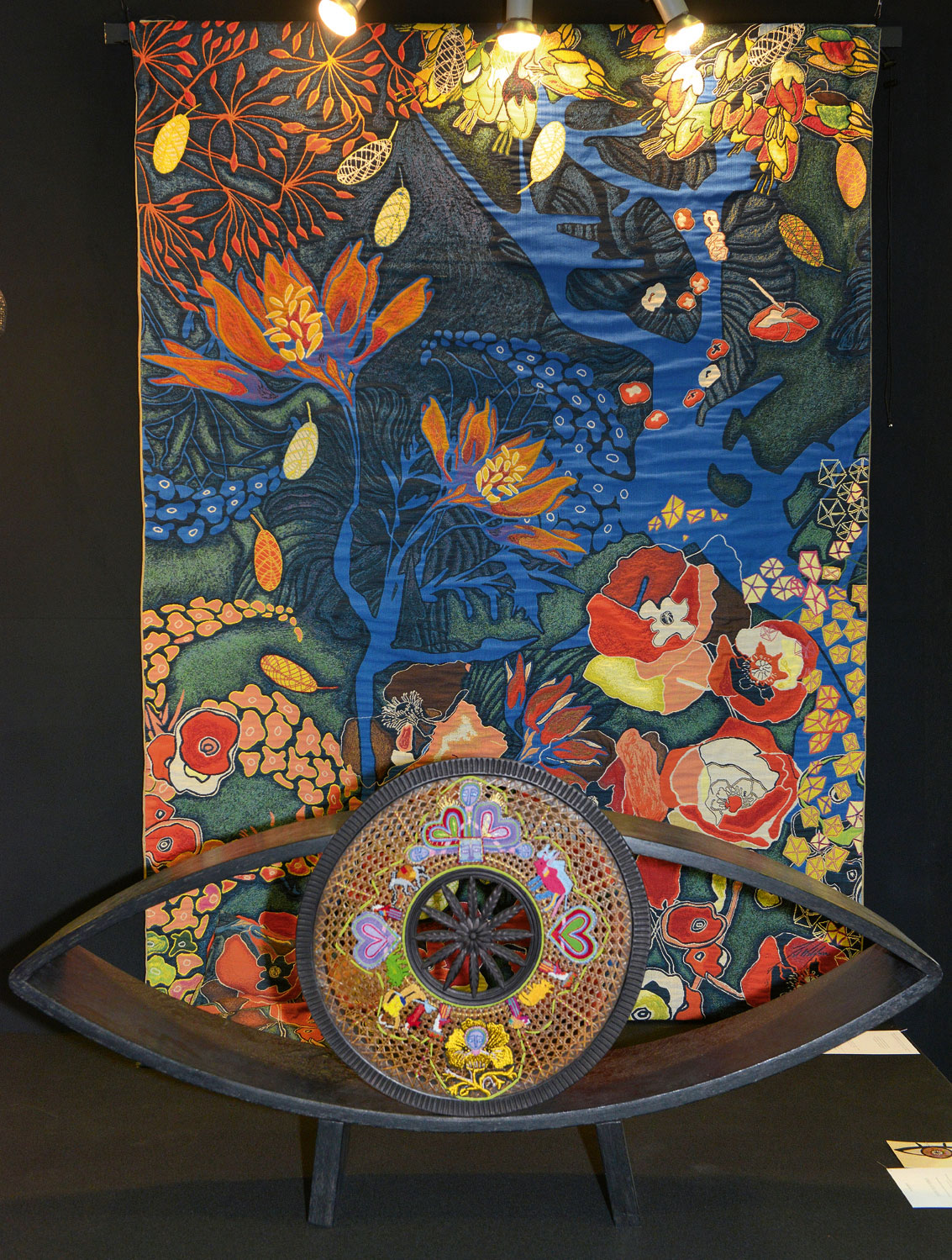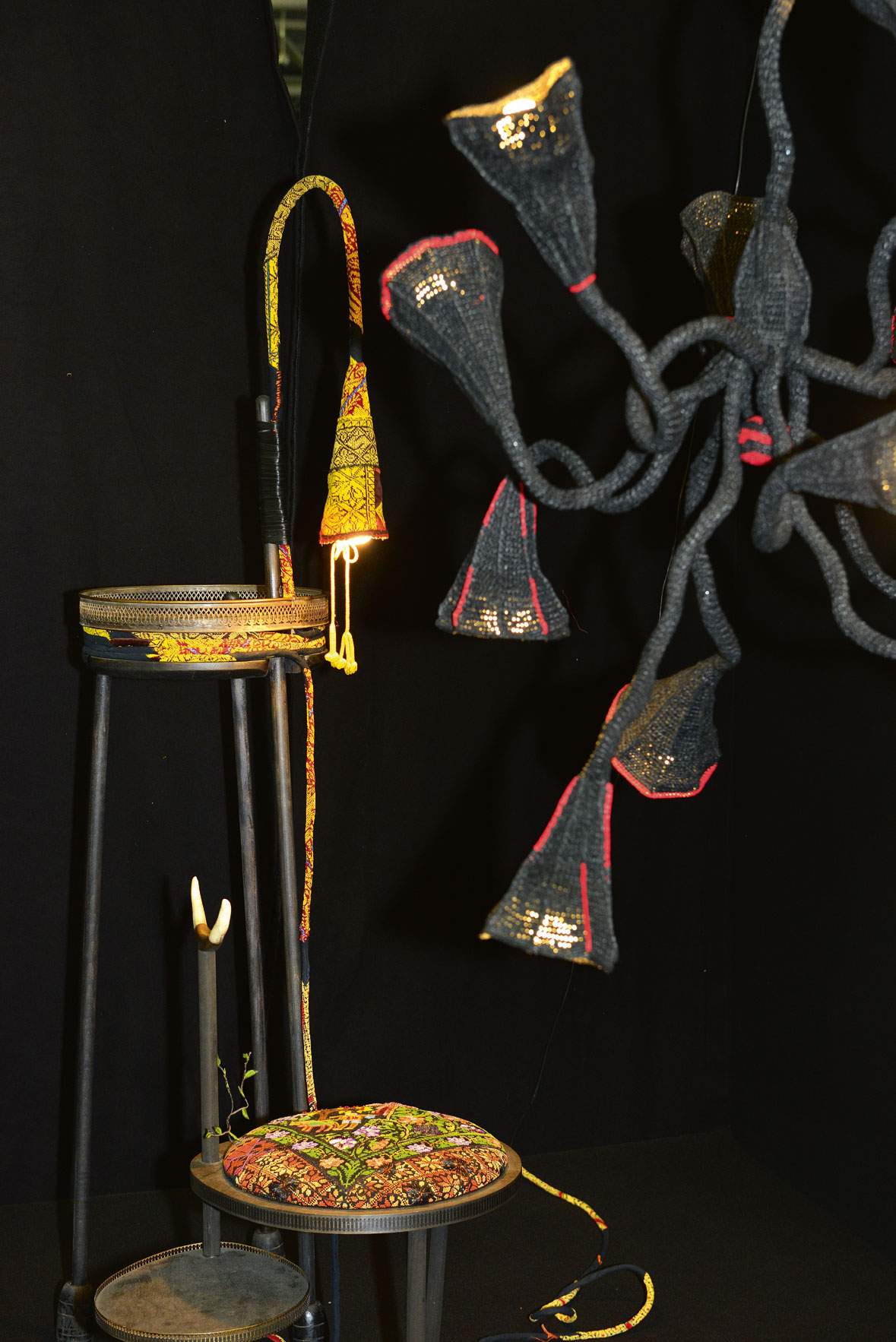 Press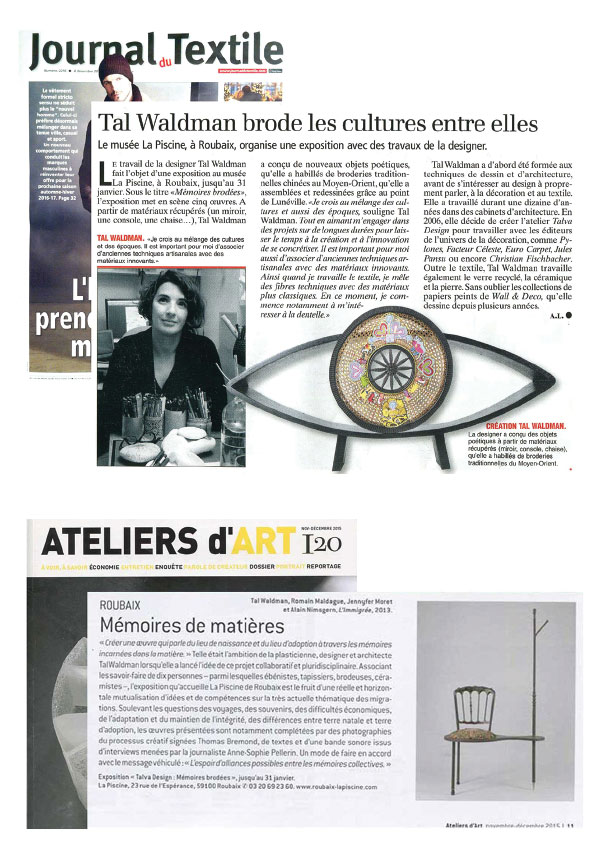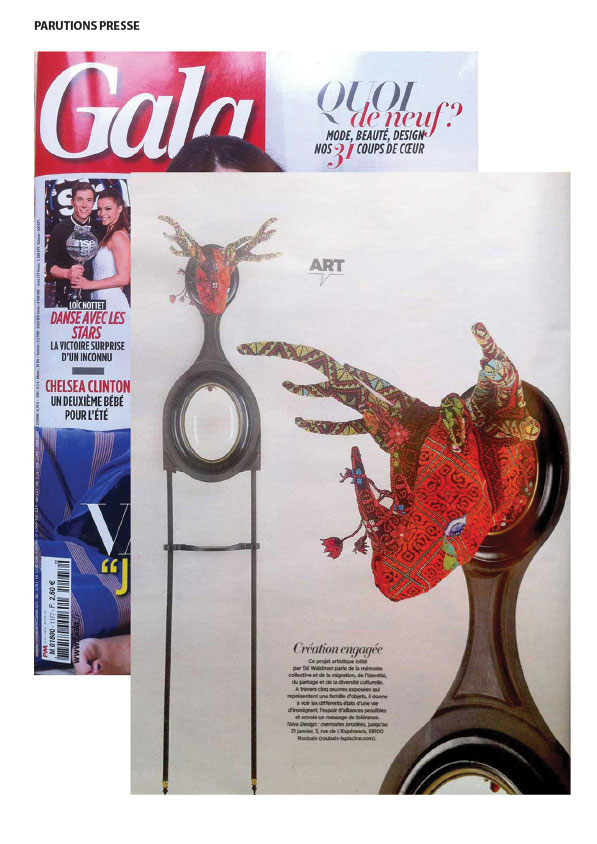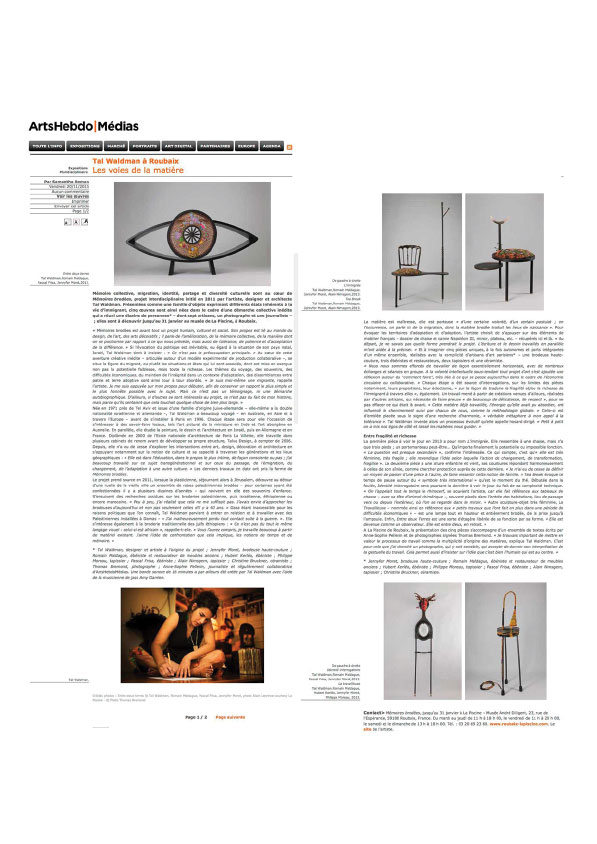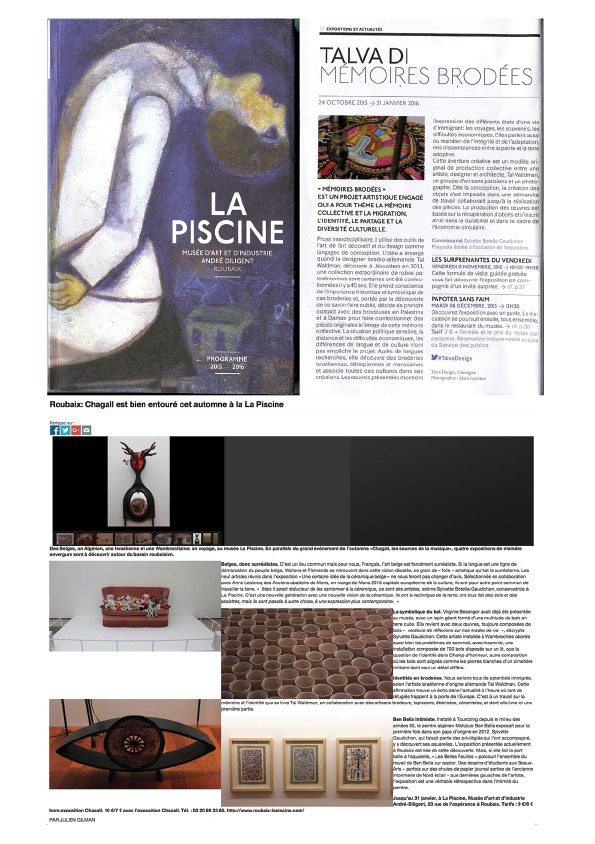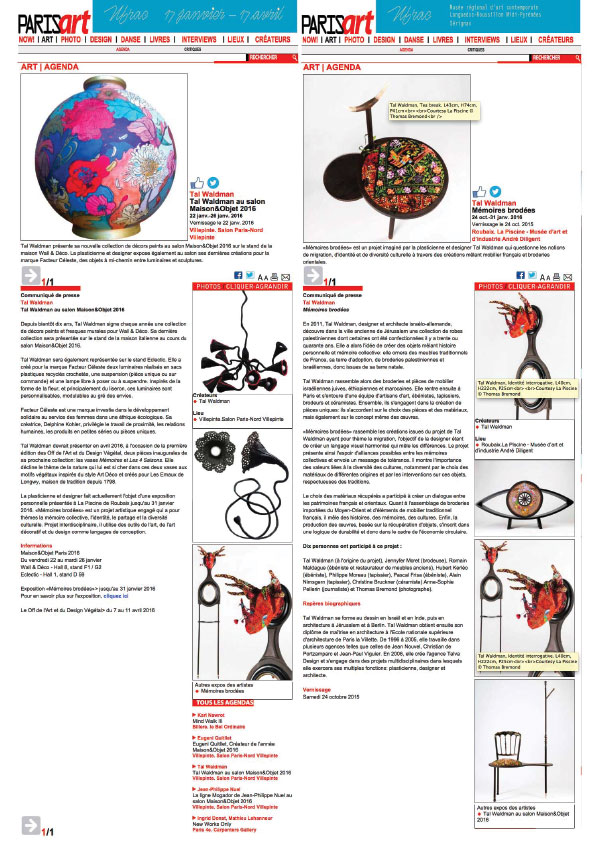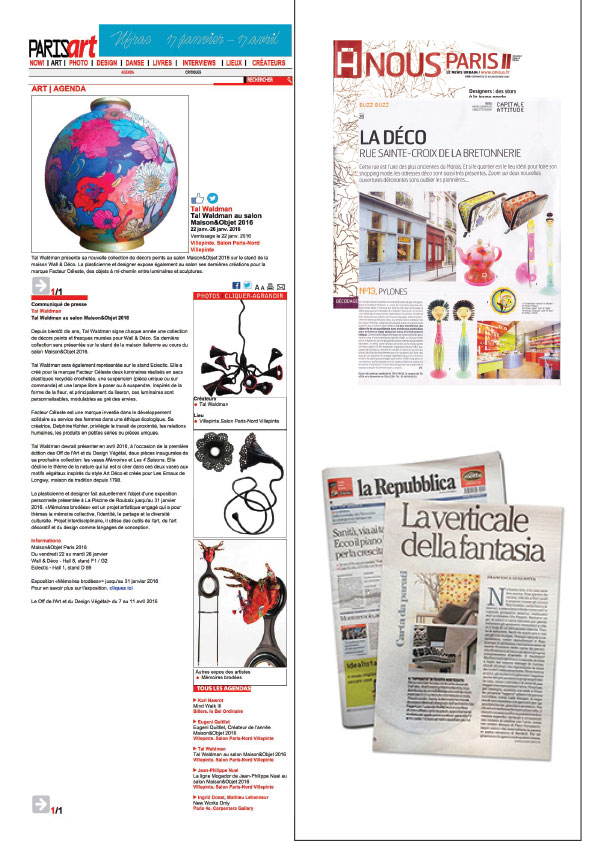 Quoi? Mémoires brodées » est un projet d'art ayant pour thème la mémoire collective et la migration, l'identité, le partage, et la diversité culturelle. Projet interdisciplinaire, il utilise des outils de l'art, de l'art décoratif et du design comme langages de conception.
Oeuvres Les cinq œuvres présentées représente une famille d'objets, expression des différents états d'une vie d'immigrant : les voyages, les souvenirs, les difficultés économiques, le maintien de l'intégrité tout en s'adaptant, les dissemblances entre la patrie et la terre adoptive.
Modèle expérimental de production Cette aventure créative est axée autour d'un modèle expérimental de production collective et circulaire, entre une artiste, designer et architecte (Tal Waldman – Talva Design), un groupe d'artisans parisiens. Dès la conception, la création des objets s'est imposée dans une démarche de travail collaboratif jusqu'à la réalisation des pièces. La production des œuvres est basée sur la récupération d'objets et s'inscrit ainsi dans la durabilité et dans le cadre de l'économie circulaire. Le travail photographique a mis en valeur la gestuelle de travail des collaborateurs et a élargi la dimension humaine du projet.
Photos, textes et bande sonore Pour toujours enrichir le projet, souligner sa dimension humaine et documenter les idées, le processus de création et les rencontres, une série de photos et de textes a été associée aux oeuvres. Le travail photographique de Thomas Bremond a su capter l'essence de la création et de la production, la précision des gestes pendant le travail. La journaliste Anne-Sophie Pellerin a créé une série d'interviews qui serviront de base à une bande sonore et à la rédaction de textes relatant l'histoire du projet artistique. La bande sonore de 16 minutes est créée par Tal Waldman avec l'aide de la musicienne de jazz Amy Gamlen.
https://soundcloud.com/tal-waldman-talva-d/memoires-brodees-extrait-interviews-7min30 
Equipe Dix personnes ont participé à ce projet artistique : Tal Waldman (Talva design), designer et artiste à l'origine du projet, Jennyfer Moret, brodeuse haute-couture ;  Romain Maldague, ébéniste et restaurateur de meubles anciens ; Hubert Kerléo, ébéniste ; Philippe Moreau, tapissier ; Pascal Frisa, ébéniste ; Alain Nimsgern, tapissier et Christine Bruckner, céramiste ; Thomas Bremond, photographe ; Anne-Sophie Pellerin, journaliste.
Mémoires Brodées / Quelques chiffres et faits:
La Collecte des fonds sur Kiss Kiss Bank Bank :
39 jours de collecte en ligne
39 donateurs
3500€ soit 100%
154 personnes LIKE
Page Mémoires Brodées sur Face Book
478 personnes LIKE
117 partages l'information régulièrement / engagés sur le projet
58,321 personnes vu le projet
articles dans la presse : le magazine Hand/Eye , le blog Wiithaa et le blog de Jovotto
2 Expositions programmées 2014-2016 dans 2 musées en France
1 partenaire : l'association Création Engagée
Mémoires Brodées atteint 100% chez Kiss Kiss Bank Bank
Embroidered Memories facebook page
Mémoires Brodées dans la presse :
Un journal international en anglais HandEye magazine
Un blog français sur la durabilité et upcycling
Un blog international basé en Allemagne, une platforme internationale des createurs et investiseurs
Press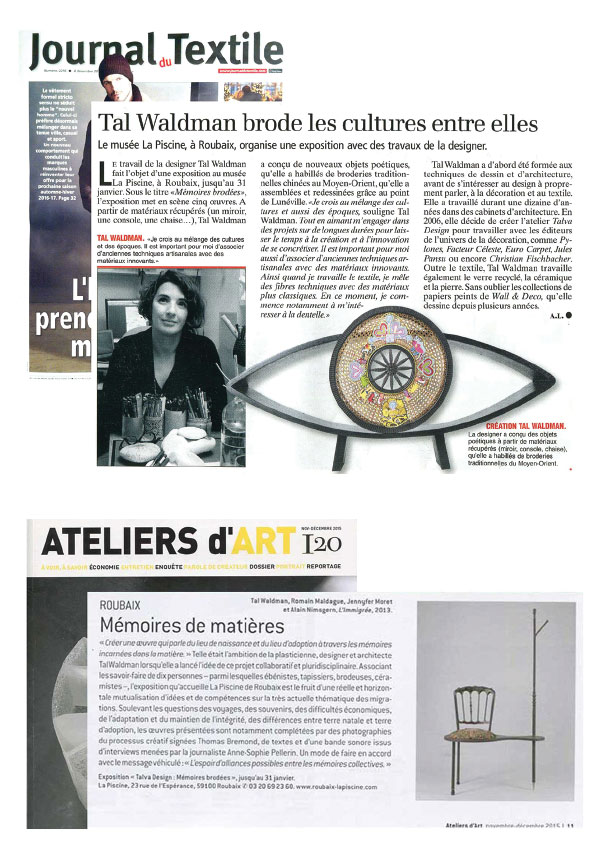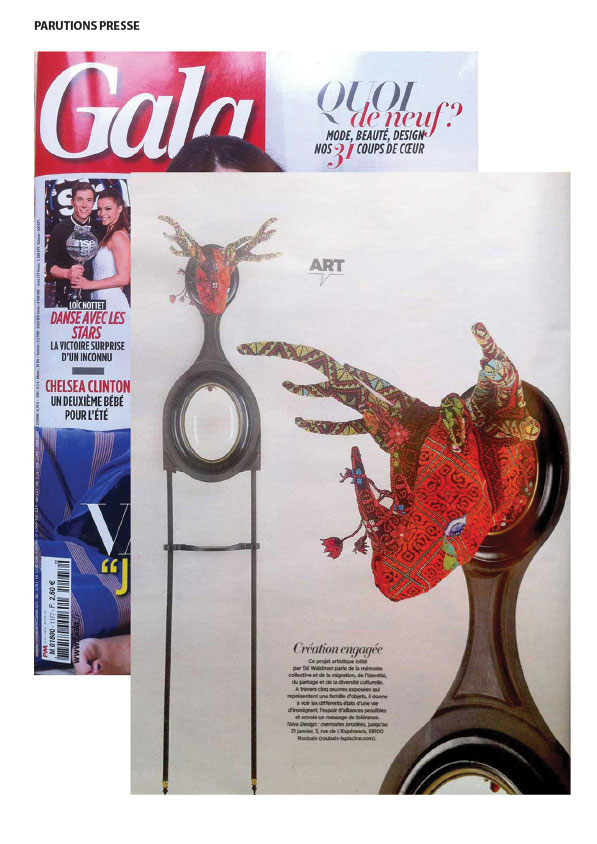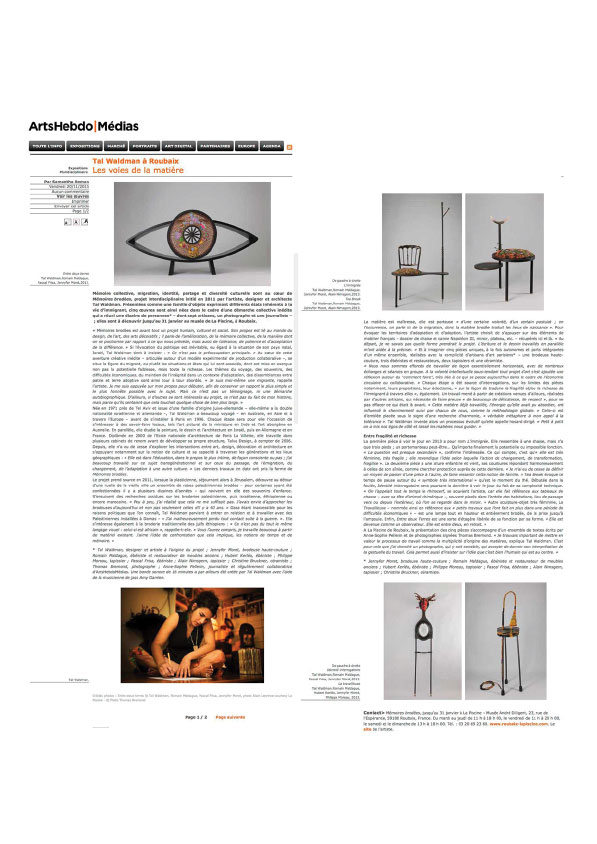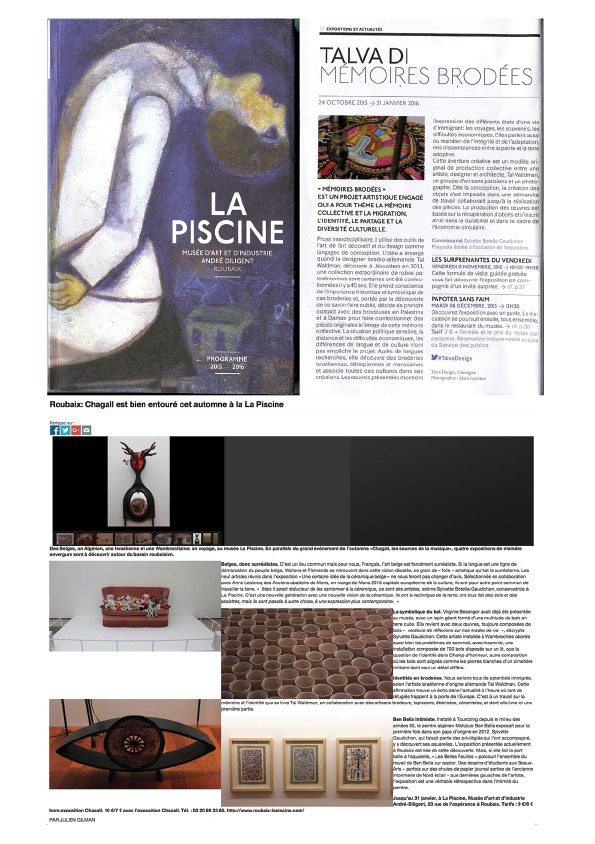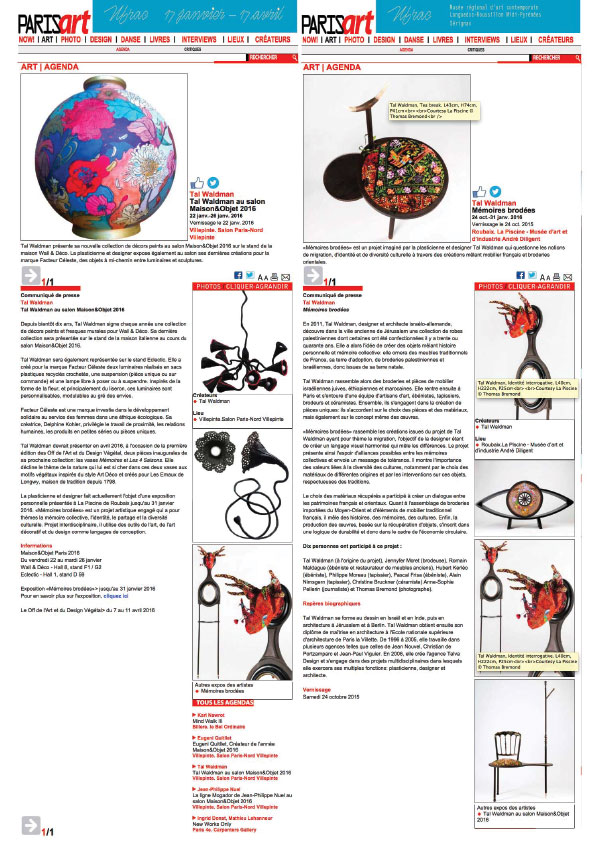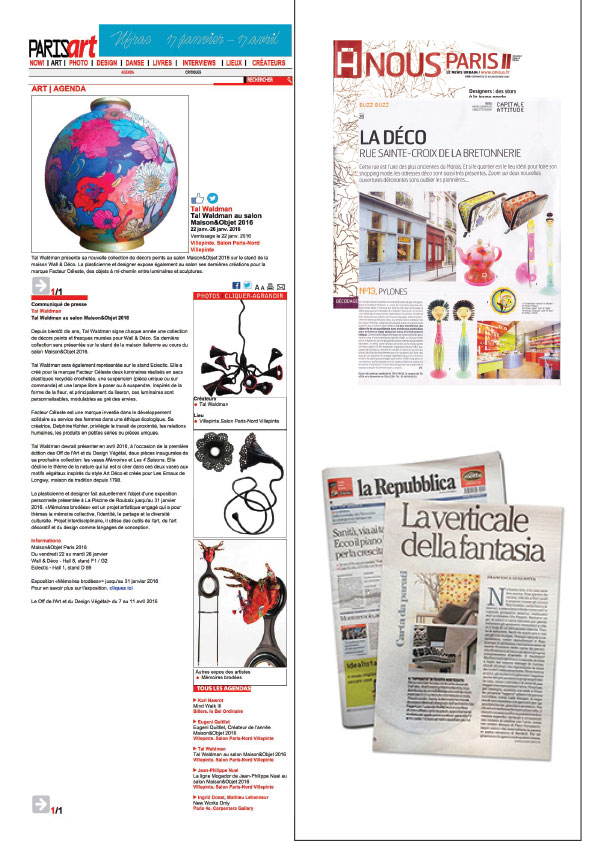 What about ? Embroidered Memories is an art project on the theme of collective memory and migration, identity, sharing, and cultural diversity. Interdisciplinary project, it uses the tools of art, decorative art and design as design languages.
Art works The five artworks represents a family of objects, expressing different states of immigrant life: travel, souvenirs, economic difficulties, maintaining integrity while adapting, the dissimilarities between the homeland and the adoptive land.
Experimental production model This creative adventure is centered around an experimental model of collective circular production between an artist, designer and architect (Tal Waldman – Talva Design), a group of Parisian artisans. From the design, object creation has emerged in a collaborative approach to the production. The production works is based on up-cycling of objects and thus is part of sustainability context and  circular economy.
Photos, text and soundtrack In order to enrich the project, highlight its human dimension and document ideas, the creative process and meetings, a series of photographs and texts has been associated to the works. The photographic work of Thomas Bremond captured the essence of creation and production, precision gestures during labor. Journalist Anne-Sophie Pellerin has created a series of interviews which form the basis for a soundtrack and writing texts about the history of the artistic project. The 7min30 of soundtrack is created by Tal Waldman with the help of the jazz musician Amy Gamlen.
https://soundcloud.com/tal-waldman-talva-d/memoires-brodees-extrait-interviews-7min30
Team Ten people participated in this artistic project: Tal Waldman (Talva design), designer and artist behind the project, Jennyfer Moret, couture embroiderer; Romain Maldague, cabinet maker and restorer of antique furniture; Hubert Kerléo, cabinetmaker; Philippe Moreau, upholsterer; Pascal Frisa, cabinetmaker; Alain Nimsgern, upholsterer and Christine Bruckner, ceramist; Thomas Bremond, photographer; Anne-Sophie Pellerin, journalist.
Embroidered memory / Some facts and figures:
Collecting funds on Kiss Kiss Bank Bank :
39 days online collection
39 donors
€ 3,500 or 100%
154 people LIKE
Embroidered memory reaches 100 % in Kiss Kiss Bank Bank
Embroidered Memories Page on Face Book
478 people LIKE
117 shares
58.321 people saw the project
Embroidered Memories facebook page
Press: Hand / Eye magazine , blogs Wiithaa and Jovoto
An international journal in English Hand-Eye magazine
A French blog on sustainability and upcycling
An international blog based in Germany, an international platform for creators and investors
2 exhibitions scheduled from 2015 to 2016 in two museums in France
1 partner, the association Création Engagée