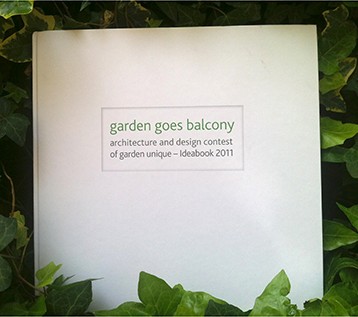 MEMBER OF THE JURY and DIRECTOR OF ONLINE PROJECT / JOVOTO
Jovoto enables leading brands and NGOs to brainstorm on a large scale and solve design and innovation challenges with more than 80,000 creative professionals around the world. Jovoto has successfully organized more than 400 crowdstorms. Talva D. has been working with Jovoto since 2011 on international projects for brands such as Total, Schuo, Festool, Linz, Mess Frankfurt, as a member of the jury or as a project manager and online mentor.
GARDEN GOES BALCONY, JOVOTO

 JURY INTERVIEW 
Served as guest jury member for the Jovoto design and architecture competition  (an international platform for art, design and architecture at the service of an international community of designers and clients). Cologne May-September 2011. The work consists of orientation and communication online during the public contest to the final judgment.
What makes architecture so interesting to you?
Architecture, design and art have a creative process that is extraordinary. It is this process that interests me; conceiving, creating, planning, designing and constructing a form, a space through a composition that reflects conceptual, functional, technical, social and aesthetic considerations. This process requires the creative synchronization of the concept, the spirit and intuition with material, technological and pragmatic aspects. This intersection between heaven and earth, between mystery and evidence, intuition and analysis is stimulating.
Do you have a "philosophy" for design? If so, what is it?
Whether I work as an architect, designer or artist it is always important for me to stay simple without mannerisms and create with integrity and intuition  by justifiable actions. This might not be an axiomatic rule but rather my way of doing things. I try to stay focused on the essential and functional with beauty as a consequence.
I'm trying to avoid a self obsessed object, surface or space. I'm searching rather for an object with a consideration to the space around it and its users, a space with a feeling for the objects in it. The life and space in every project are a consideration already during conception.
Exploring the space between fine arts, design and architecture is there something, an element or a rule, you always hold on to/go back to?
These are all disciplines that construct our environment. I find it artificial to separate them. Therefore, I try to find the place where architecture, design, decoration, art and craft have a common life and create synergy together. Architecture will not be disconnected from the design in it, object design will be less self obsessed and by being at the service of design and architecture decoration and craft will not be empty or accidental.
Following the same logic I would like to be able to enlarge this concept and apply it to the whole fabrication process to consider the environment, the craftsmanship, the people….
What inspires your work?
Many things are an inspiration to me: nature, light, colors, materials, craftsmanship and technology as well as dreams, ideas… life.
How do you like the collaborative environment on jovoto, giving feedback and seeing the ideas develop?
I find this form of communication very exciting. The power this media has is overwhelming therefore the environment has to be kept respectful and gentle in order to remain positive. I find that in most cases it is so and that is great. It gives a real opportunity for sharing (now that is inspiring!)
Do You have a balcony? What do you use it for and what would be the balcony of your dreams?
I had a balcony in earlier years, now I have a small garden and it's a real extension of my indoor space. The balcony of my dreams would be facing the sea but this might take some time as I live in Paris.
Any designs of yours you'd like to share with us? (links, pictures)
On my site you can find a few of the projects of the moment, a glimpse into the more 3D projects and none of the more experimental stuff but it's worth checking out www.talvadesign.com