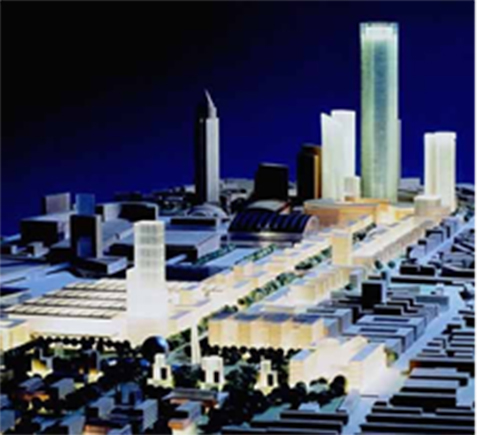 ARCHITECTURE,  C.D.PORTZAMPARC AGENCY 1998
Collaboration with the Christian de Portzamparc agency, on the following projects :
The Seine Rive Gauche in Paris operation
The project " Urban Entertainment " in Frankfurt.
Operation " Les Jardins de la Lironade " in Montpellier,
ZAC Porte d' Asnieres in Paris
The operation Seine Rive Gauche in Paris Coordinators Architects: Christian de Portzamparc and Ateliers Lion Associates Landscape : Thierry Huau. This area is the first application of an innovative urban concept by Christian de Portzamparc , the open block . Housing 102,000 sq.m. Offices and commercial activities 128,000 sq.m. Artists' studios 4600 m² Shopping and services 32 500 sq.m. Public facilities 65,500 sq.m. University 110,500 m²
Urban Entertainment Centre Located between the trade shows, the banking district and the main railway station, this development includes the construction of theaters and cinemas , offices, retail outlets and a mixed 45-storey hotel on a parking grade less than three levels garage for 3300 cars. In the second phase, additional parking for 700 cars a was added . The project involves the coordination of at least six distinct architectural firms . The overall concept envisaged fluid footpaths crossing the site allowing the public to browse through the establishment at all hours of day and night. These trails are lined with retail at lower levels and the overall complex is punctuated by a vertical tower hotel. Location: Frankfurt , Germany Design Architect : Ateliers Jean Nouvel / Adamson Associates / ABB Frankfurt / Urbacon (IK ) / Bellini (Italy) / Christian De Portzamparc Executive architect Adamson Associates, Client: Trizec Hahn Size: 2.5 million sf / 232,250 sm ( Parking – 1500000 sf / 139,350 sm)  
Les Jardins de la Lironade : PROGRAMME Urban project: Definition of architectural and urban orientations ZAC "The Lironde ." 2,000 dwellings, 35,000 m² of office – work , school, divided into " islands built " in a landscaped park. CLIENT Equipment Region Montpellier company (SERM ) LANDSCAPE Michel Desvigne SURFACES 190,000 sq.m. with total 140,000 square meters of housing, 35,000 m² office and public facilities , 198,000 square meters of green space, 52,500 m² of highway and 101,000 m² of existing private property , or an average island built COS 2.7 . Influence of built islands : 48,000 m² Clearances . 65% of the BIA .